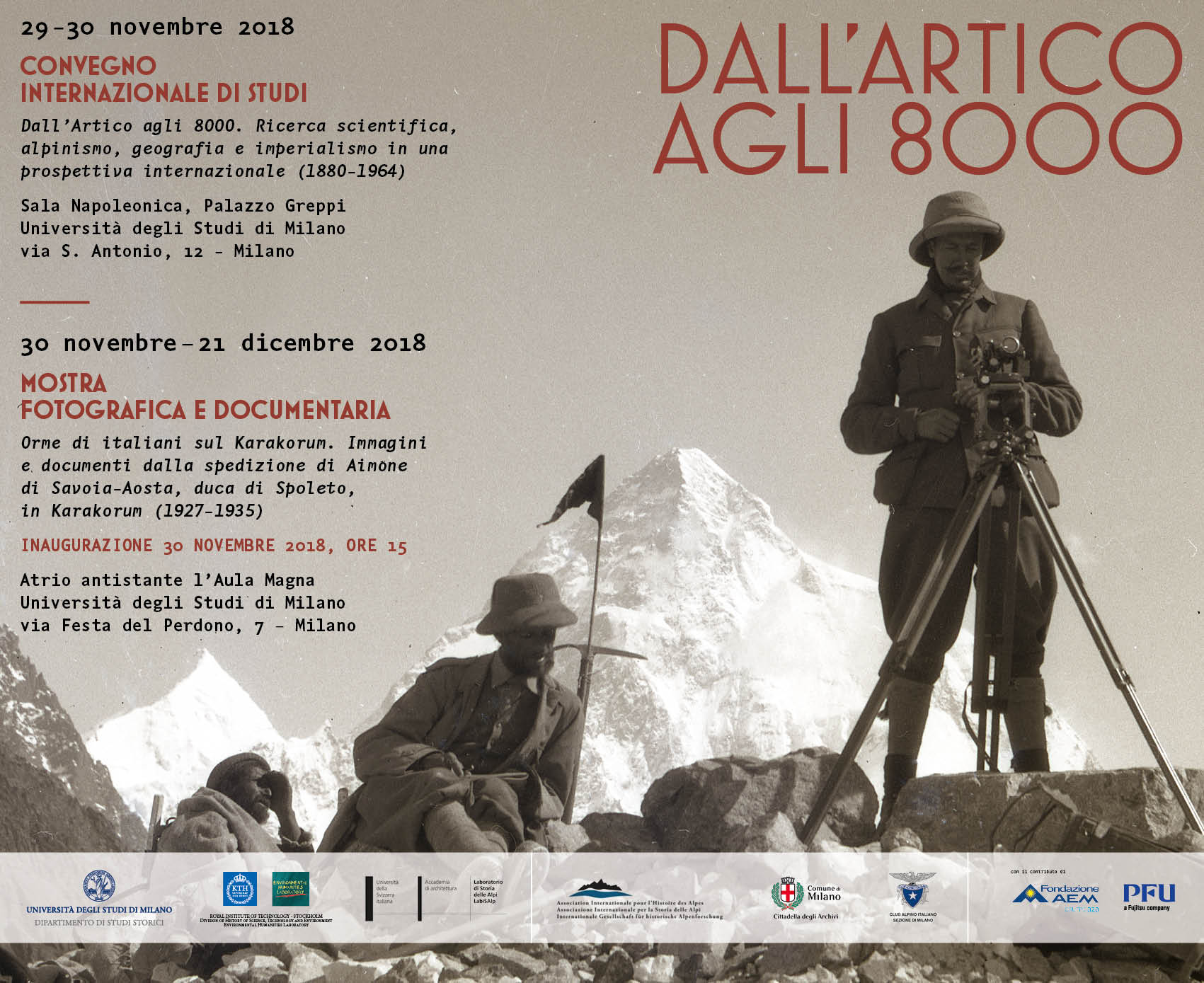 Il convegno trae la sua origine dal recente ritrovamento presso gli Archivi civici del Comune di Milano di documentazione inedita (è in corso un progetto di inventariazione e digitalizzazione) legata alla spedizione artica di Umberto Nobile (1928) e alla spedizione in Karakorum di Aimone di Savoia-Aosta, Duca di Spoleto (1928-29). Le relazioni previste permetteranno di approfondire la stagione delle esplorazioni italiane e di confrontarle a livello internazionale alla luce dei più recenti apporti, incrociando approcci disciplinari differenti tra antropologia, geografia, storia, storia della scienza e studi ambientali. Al termine del convegno sarà inaugurata la mostra documentaria e fotografica allestita presso l'atrio antistante l'Aula Magna, che presenterà e contestualizzerà in 20 pannelli i documenti e le fotografie contenute nella pratica archivistica "Karakorum".

29-30 novembre 2018 CONVEGNO INTERNAZIONALE DI STUDI
Dall'Artico agli 8000. Ricerca scientifica, alpinismo, geografia e imperialismo in una prospettiva internazionale (1880-1964)
Sala Napoleonica, Palazzo Greppi
Università degli Studi di Milano
via S. Antonio, 12 - Milano
30 novembre - 21 dicembre 2018 MOSTRA FOTOGRAFICA E DOCUMENTARIA
Orme di italiani sul Karakorum. Immagini e documenti dalla spedizione di Aimone di Savoia-Aosta, duca di Spoleto, in Karakorum (1927-1935)
INAUGURAZIONE 30 NOVEMBRE 2018, ORE 15
Atrio antistante l'Aula Magna
Università degli Studi di Milano
via Festa del Perdono, 7 – Milano
The origins of the conference can be traced back to the recent findings in the Civic Archives of Milan Municipality of previously unpublished documentation (currently subject to an inventory and digitalization project) linked to the Arctic expedition of Umberto Nobile (1928) and the expedition to the Karakorum of Aimone di Savoia-Aosta, Duke of Spoleto (1928-29). The talks proposed will examine in depth the era of Italian explorations and compare them internationally in the light of recent investigations, cutting across various disciplines, including anthropology, geography, history, history of science and environmental studies. At the end of the conference a documentary and photography exhibition will be inaugurated in the foyer opposite the Aula Magna, which will present and contextualize, using 20 panels, documents and photographs in the "Karakorum" archive.
29th – 30th November 2018 INTERNATIONAL STUDY CONFERENCE
From the Arctic to the eight-thousanders. Scientific research, mountaineering, geography and imperialism from an international perspective (1880-1964)
Sala Napoleonica, Palazzo Greppi
University of Milan
Via S. Antonio, 12 – Milan
30th November – 21st December 2018 PHOTOGRAPHY AND DOCUMENTARY EXHIBITION
Footprints of Italians on the Karakorum. Photos and documents from the expedition of Prince Aimone of Savoy-Aosta, Duke of Spoleto, to the Karakorum (1927-1935)
INAUGURATION 30th NOVEMBER 2018, at 15.00
Foyer opposite the Aula Magna
University of Milan
Via Festa del Perdono, 7 – Milan
Attachments